Christmas is my favorite.  I love the decor, I love the traditions, I love celebrating the birth of Christ.  I love the colors, I love the food, I love the movies and the books.  I love it all.
I loved Christmas before I had kids, and now that I get to share it with these little people, my heart feels like it is exploding out of my chest the whole season.  To see the joy and experience the ultimate happiness of a child through the Christmas season is incredible.
This post contains Affiliate links- Please see my full policy here.
Christmas Books for Kids
One of my favorite things to do with my kids are read Christmas books.  I have a few and my mom has a few.  Every year I say I am going to buy a bunch more and do the 25 days of Christmas books.  Then I do a quick calculation and realize that I would probably spend close to $300 on new books and I change my mind.  It's also hard for me to preach "get rid of your clutter", "get rid of your kids toys" if I then go out and buy a bunch of books just to read once each year.
I always try to grab some at the library as well and of course that's what every other mom is thinking too so there are never very many to choose from.  So what's a mom to do?
Well, did you know that there are ebooks for kids?  Yea!  I had no idea!! And no, you don't have to purchase each one individually either.
So what's the secret?
I use two ebook services (both which have 30 day FREE trials!) The kindle unlimited and the epic!
Kindle Unlimited.
I love my kindle, I love my kindle apps.  I stalk the free kindle books and I occasionally buy one for myself as well.  I've wavered on paying for kindle unlimited for myself but keep thinking I will never actually get my moneys worth out of it because #momlife.  However when I discovered they offered kids books too, I changed my tune!
Pros of Kindle Unlimited:
Free 30 trial
1 million titles to choose from
Thousands of Audio books
Can read on ANY device
Works for adults and kids
Cons of Kindle Unlimited:
$9.99 per month (can cancel anytime)
Can only add 10 books to you library at a time
Epic! Books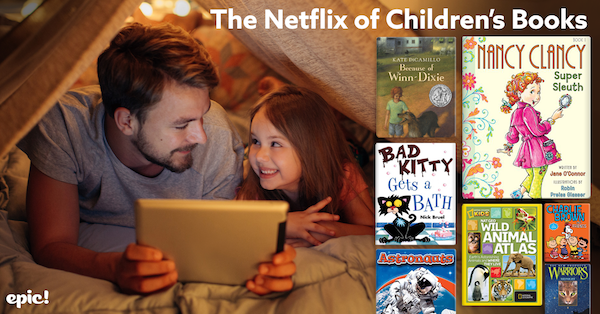 I LOVE this service.  My oldest daughter is very interested in technology.  We have pretty strict rules on the amount of time and the place that she is allowed to use her ipad.  I love Epic because I can save things to her library that are age appropriate.  It's an easy app for her to use and she's actually learning! I feel much better about her being on Epic! books than browsing YouTubeKids.
Pros of Epic! Books
Free 30 day trial
10,000 high quality books for children under 12
Does offer "read to me" books
Can read on ANY device
Get personalized recommendations and rewards
Cons of Epic!
For kids only
$4.99 per month (can cancel anytime or pay in advance for an even bigger discount)
We personally have both services.  I think they are both great and even though I put the cost of each in the Cons section I think the price of each is great for what they offer! Give them a try, because its FREE and you can at least check out this awesome list of Christmas books I am about to recommend!
Okay so now back to the fun stuff!  These are all appropriate for kids under 5 and I guarantee you and your kids will find so much joy in each of these books!
Grab all of these plus more from Epic! Creations Inc
Heres a few of my favorites from Amazon Unlimited
Do you see any of your favorites on this list?
Get Kindle Unlimited Here.

Sign up for Epic! Here.

Looking for more fun traditions to do with your little one?
Check out these Elf on the Shelf Alternatives.
Sign up to get access to our Free Christmas Collection Printables.  It includes a set of family conversation cards.  These are So much fun to do with your little ones.  My kids are so unpredictable with their answers and I will be sharing some of their responses on my social channels this season so make sure you are following me on Instagram and Twitter!